Sydney NYE has lots of announcements from the waterfall types and the fireworks soundtrack to special guests and fireworks designs. So much news that you may not have noticed some things sometimes. So here are some things you may have missed being announced before the big show begins at 6pm Australian Eastern Daylight Time…
The TV Broadcast Is Global
We've been trying to get clarification so apologies in advance if this one is wrong but we believe for the 1st time in Sydney NYE history, the whole television broadcast can be watched internationally.  This is via the Australian Broadcasting Corporation Television's YouTube & Facebook live streams. However, we are definitely uncertain still about whether the fireworks soundtracks on the Internet live streams will be copyright-free or not. So if you live internationally, spend 4 hours with the rest of Australia as we celebrate Sydney New Year's Eve 2017 – 'Wonder'. Australians frequently wake up in the middle of the night to watch major sporting events held in Europe/the Americas so now begin an Aussie tradition while it lasts & wake up to watch Sydney New Year's Eve – the world's greatest party!
You can find the live streams via our Watch LIVE page.
The Return Of The Pontoons
Pontoons return to the Midnight Fireworks for the 1st time in 10 years. We believe they will be placed in a north-south direction in front of the Sydney Harbour Bridge. They were last used in the finale of the Midnight Fireworks of Sydney NYE2007 – The Time Of Our Lives (skip to 12:56 to see them in action):
This year, 6 pontoons will feature and in the Midnight Fireworks, will at least appear during the 20-second segment set to Dr G Yunupingu's Wiyathul co-designed by Fortunato Foti & actor, Hugh Jackman.
'9 To 5'
The 9pm Family Fireworks expand to 5 barges this year. We believe this 5th barge will be located in front of the Sydney Harbour Bridge and will fire only occasionally (very similar to the barge in front of the Sydney Harbour Bridge during Midnight Fireworks since 2010). However, this '5th barge' could also be the 6 pontoons referred to earlier.
This will be the most spectacular 9pm Family Fireworks since 1998.
The Midnight Countdown
Apart from the Sydney Harbour Bridge pylon projections, the 10 second countdown to Midnight will be done using pyrotechnics in the shape of numbers on the Bridge. At the stroke of Midnight, like last year, the word 'Sydney' will appear in pyrotechnic form too on the Sydney Harbour Bridge. This should give an indication of what the numbers will look like on the Sydney Harbour Bridge in pyrotechnic form. If don't remember seeing the word 'Sydney' in pyrotechnic form during the Midnight Fireworks last year, here is a photo to jog your memory: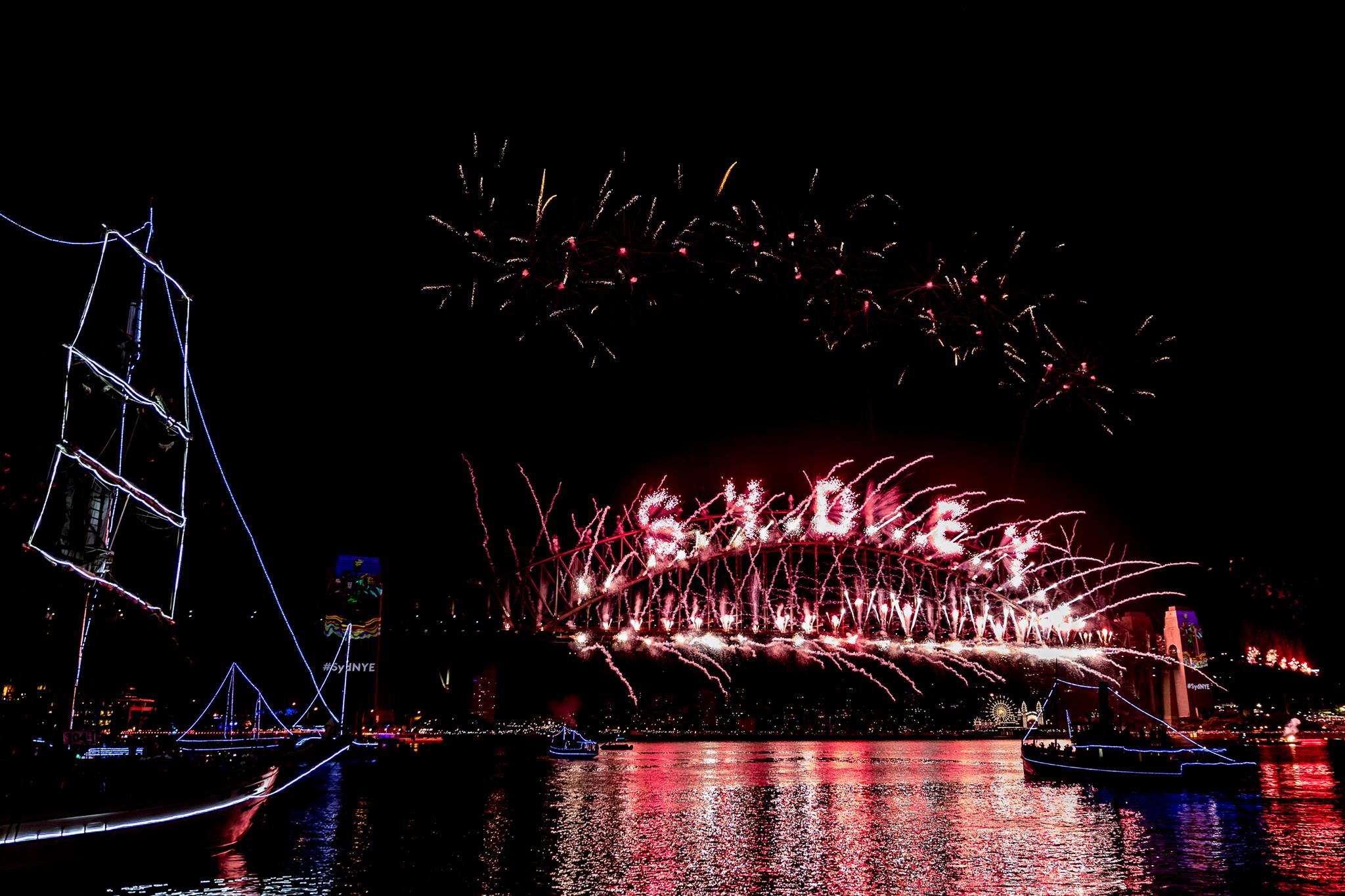 Most Sydney Harbour Bridge Fireworks Ever
3000 more fireworks will fire off the Sydney Harbour Bridge this year. A record.
Hugh Jackman Fireworks At 12:08am
The City Of Sydney advised on Twitter that to see Hugh Jackman & Fortunato Foti's co-designed display set to Dr G Yunupingu's Wiyathul, tune in before 12:08am. This should mean it happens at 12:08am.
And that is it! Enjoy Sydney NYE2017 – Wonder & Happy New Year!