Have you been wondering all year what this year's Sydney New Year's Eve (NYE) theme will be? Wondering when it will be revealed? I wonder if it will be a wonderful theme this year. I wonder if the answer is 'on the tip of your tongue'?
Ah, good spotting! The theme for Sydney NYE2017 is Wonder!
In recent weeks, the Sydney NYE website has been quietly updated to include the theme & artwork details for this year's event on their website's 'About' page. As we guessed, the theme is all about Sydney being a true 'wonder in summer'.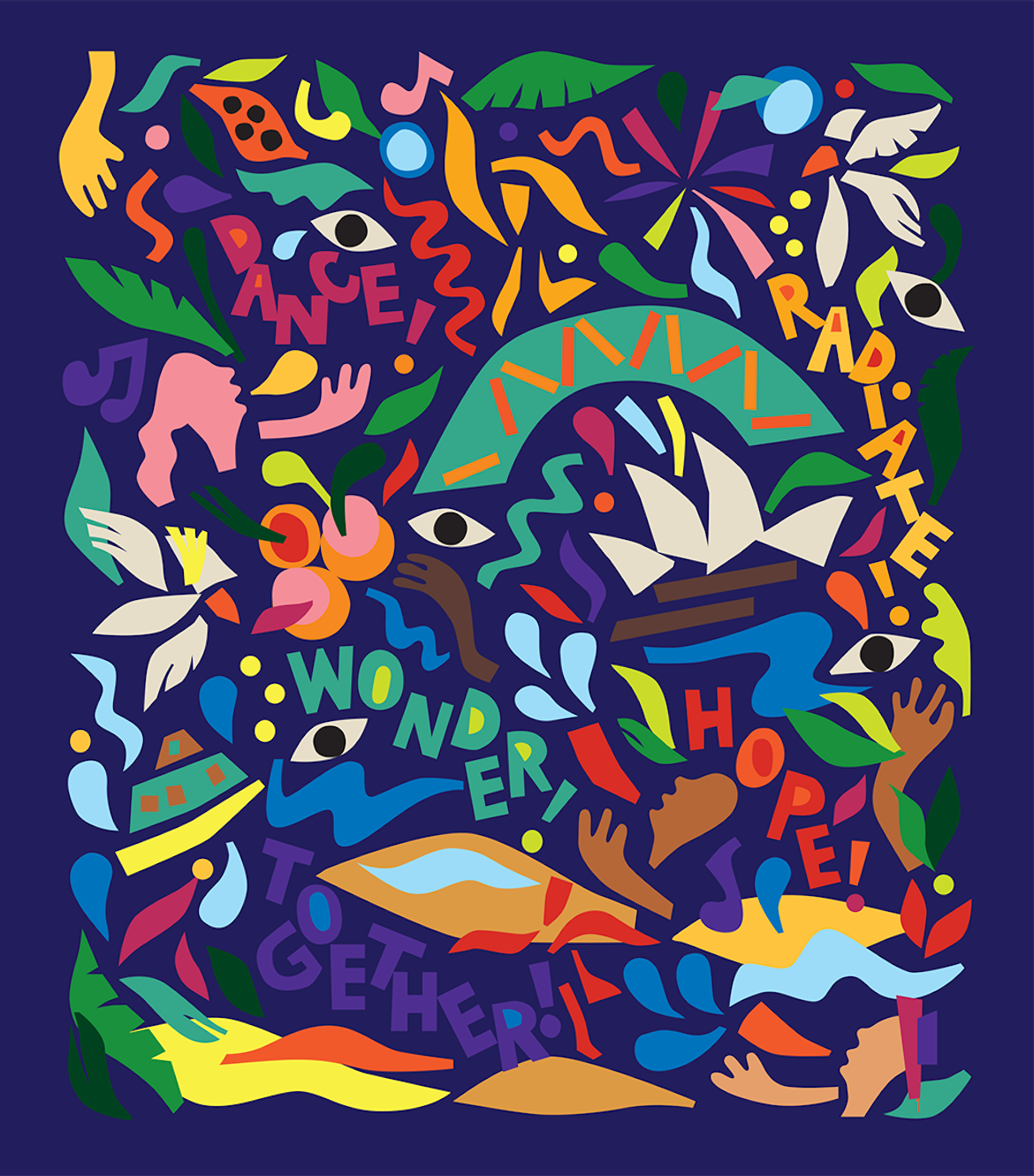 The artwork above, which is part of a "suite of stunning designs" is the work of Nadia Hernández, a multi-disciplinary designer based in Sydney, who is this year's Sydney NYE 'creative ambassador' (Though the creative ambassador role has been reduced significantly since 2015 – it's more of a 'local artist' role now with local fashion designers & paper artists contributing works to the past 2 editions of the event).
Through her unique paper-cut design, she has brought to life the sense of wonder you get during Sydney's summer whilst capturing the vibrant mood & cultural diversity of the city.
The Coin
With less than 2 months to go, the Sydney New Year's Eve 2017 – Wonder coin, produced in partnership by the City Of Sydney & the Royal Australian Mint, has gone on sale!
The Sydney New Year's Eve 2017 – Wonder coin represents the unbridled wonder, exuberance & hopes of the world on New Year's Eve. Add it to your Sydney NYE coin collection & treasure it for memories of a precious moment in time.
With a mintage of 5000, this 1/2 an ounce 99.9% silver coin with a diameter of 35.89mm is a fantastic souvenir to keep of this year's event.
Go to the Royal Australian Mint's new release section to view and order now. Price: AUD$60 (Australia) and AUD$54.55 (International).
This latest coin represents the halfway point of the Sydney NYE coin releases. There are 5 coins left to be released, one each year.
Australian Broadcasting Corporation Broadcasts
The duration of the Australian Broadcasting Corporation (ABC) television (TV) & iView broadcasts are unconfirmed still but regarding content of the TV broadcast, whilst no major details have been revealed, this small teaser of details was released recently:
Join ABC in a star-studded evening to count down the biggest night of the year with the New Year's Eve 2017 spectacular event broadcast. Enjoy an evening jam-packed full of unmissable entertainment, comedy, and music, as well as the Family Fireworks at 9pm, followed by the world-famous Sydney Midnight Fireworks.
Well at least the Midnight Fireworks are now officially confirmed to be part of the TV broadcast! Anyway, that small teaser is too vague for now to confirm if it will be different to or the same as the previous ABC NYE broadcasts of recent years.
But have hope! We believe the ABC is planning a special pre-recorded segment for the TV/iView broadcast on the scientific branch of astronomy from none other than Sydney Observatory!
Whilst we do not know for sure what form this segment will take, an educational segment has not been done in the previous 4 ABC broadcasts which have relied mainly on children's, music & talk/comedy/game show-style programming. This could indicate a change of direction in the ABC's production of the NYE TV/iView broadcast. I wonder if this will be the case?
Educational segments have been done before on NYE broadcasts but those were mainly just 'explainers' on how fireworks are created (a lesson in chemistry!). Astronomy has little to do with pyrotechnics but in any case, on NYE, everyone is looking at the night sky anyway (well, for fireworks at least – don't forget the time!) so why not explore the cosmos while you gaze skywards too?